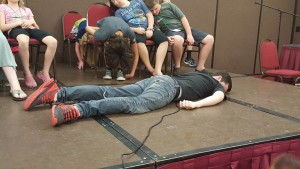 Every night of the conference, you can count on a family-friendly activity to entertain or inspire.  Past conferences have included magic shows, hypnotists, and concerts.  2017 special events have not yet been scheduled, but you know you can always count on the dance and the talent show!  Stay tuned for more.
Family Dance – Get dressed up, or come casual, but come ready to have some fun dancing to all your favorite songs.  The family dance is open to all, but after 9:00, it will be teens only!
Talent Show – What conference would be complete without a talent show?!  The talent show is open to all, from the tiniest of unschoolers to the oldest.  Sing a song, perform a skit, play an instrument, read poetry, dazzle us with your karate or dance moves or hula hooping… be creative! We can't wait to see what you have to offer.  Stick around after the talent show too, because we'll immediately follow it with karaoke.

Save
Save