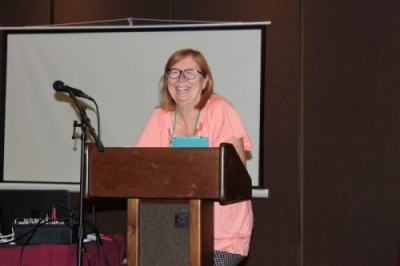 Our main presentations will cover a wide variety of topics, from everything from unschooling basics, to navigating the teen years, to parenting with more mindfulness and humor. Presentations are a great way to be inspired with new ideas, brush up on old ones, and look at your journey with a fresh perspective.   We'll have something to offer dads, moms, and kids alike. Whether you're brand new to unschooling, or a seasoned pro, you're guaranteed to learn something new.
As new presentations are confirmed and added to the schedule, we'll list them here.
______________________________________________________________
Joy, Health, Love & Peace, by Sandra Dodd
A life with contentment, gentle touch, kindness and togetherness must be better than a life of fear and tacky rudeness.  And curiosity and exploration work better when eyes open and mouths smile than when a person cries and cringes.
People can see that and agree, but sometimes they don't know how to apply it day after day, month after month, to create a life of joy and peace.
__________
Practicalities of Unschooling, by Sandra Dodd
How to do it, when, with what materials
Who does it?
Where?
Why?
__________
When in Doubt, Chill Out, by Jennifer Andersen

As a high strung type "A" personality, Jennifer Andersen is good at bringing energy- that is; chaos, confusion, and anxiousness- to any situation. Her journey to this point in Unschooling has been the greatest course in personal change she has ever experienced.
Mostly through Sandra Dodd and the Radical Unschooling Info Group, Jennifer began to understand the value of calm- especially when it comes to parenting. As someone with lifelong anxiety, Jennifer had a lot of work to do to bring peace to her family.
Though the acute symptoms of anxiety were treated with therapy and medication years ago, those who deal with anxiety know that it never goes away. Once Jennifer understood the value of calm in family life, she needed to learn how to get there. There is no motivator greater than making life better for one's children.
"Chill out" is easier said than done- especially for someone with anxiety, but these became Jennifer's guiding words.
Join Jennifer for "When in Doubt, Chill Out" where she will share resources, strategies, and thoughts that continue to help her choose peace over anxiety in daily living with her children.
__________
Get Sh!t Done:  Less Thinking, More Doing, by Laura Flynn Endres
You're here to learn, but then it's time to begin unschooling. I'm all for reading books and blogs, participating in online forums, and attending conferences, but there comes a point when you have to stop thinking about how best to unschool and simply begin unschooling – which means not worrying over every little detail of every little interaction.
What are your obstacles? What are you giving time and energy to, and do those things serve you? How do you know what barriers to tackle first?
Your goal is for unschooling to be as natural as breathing. Let's talk about the fastest way to get there
__________
It Worked!  My Unschooled Kids Are Functioning Adults, by Laura Flynn Endres
This is a brave path we've chosen. To muggles, we're pioneers. Renegades. Weirdos. Bat-shit crazy. RUINING OUR CHILDREN'S LIVES.
I won't tell you it's always easy, but I'm 20 years into it and I will tell you it's always worth it.
Come hear about our community's adult unschoolers, and use our stories to calm you when the doubts creep in. We'll talk about what it means to be a successful adult, what the process looks like, and how to trust you're doing the right thing when your kids continue to "break the mainstream mold" well into adulthood.
__________
Sharing the Joy of Unschooling, by Erika Davis-Pitre
This talk is all about the Joy that unschooling has brought to my family's life.
I will cover many topics in a humorous and fun way, from just starting out basics (is it supposed to be this fun?), to how to convince your extended family that you are not crazy (really, you're not!) to how you yourself can become the next great unschooling guru!
Come ready to share a laugh, a smile and some good time with your "people".
__________
Unschooling Diversity, by Erika Davis-Pitre
This talk is about how to be welcoming to families from a wide varieties of backgrounds that exist in the unschooling community. It is also a time for families of diverse backgrounds to come together and make connections with other families.
Come with your questions, concerns and solutions to opening up your family's unschooling experiences to folks from different backgrounds/experiences.
All are welcome!
__________
Unschooling in the Moment, by Alan Marshall
Sometimes we might be tempted to think of unschooling as a method to be applied: input unschooling advice, output perfect young adult. The reality is much different. Unschooling is something we must do anew each day, each hour, and each moment. All the reading, advice, and even conference going we may do is only preparation for the rewarding but challenging work of changing ourselves moment by moment for the benefit of our children. This talk is meant to inspire all of us, from the complete beginner to the seasoned veteran, to refresh our attitudes, thoughts, and actions in every moment towards what is best for learning and relationships.
__________
Bedtimes and Broomsticks, by Brian Curtice
Even families a few years into ownschooling can find themselves uncomfortable with how what feels right for their family conflicts with societal norms such as, "What time should my children go to bed?  What clothes should they wear?  How do I know if they are learning?"  Ownschooling is just that, your family's OWN schooling, and in this presentation I will discuss challenges and concerns posed by friends, family, coworkers, even differences among parents while providing examples of how families across the unschooling community have solved them.
__________
Video Games – Heroes or Villains, by Brian Curtice
Enjoy this candid conversation with Dr. Brian Curtice as he discusses positives aspect of video games while addressing some of the most common concerns parents have about them.
__________
Ownschooling for Newcomers, by Brian Curtice
So you heard about this thing called unschooling and are thinking of trying it.  Or you might have jumped into the deep end feet first and are wondering "What'd we do???"  In my presentation I will discuss why I use the term Ownschooling, what this entire non-traditional educational paradigm is about, strategies for either easing in or going whole-hog and talk about commonalities families encounter when leaving the traditional world of child education.
__________
Play and Well-Being, by Roya Dedeaux
Most people understand that play is vital for children's healthy development, yet often as adults we do not stop to consider the other important roles of play for our kids, and for us. Play is necessary for cognitive, social, emotional, and physical well-being. However many adults assimilated messages during their own childhoods that remain unresolved, messages from their parents or teachers that play is frivolous, unworthy, or unimportant. This talk will cover the benefits of play for children and adults, explore common barriers and doubts surrounding the importance of play, and delve into how you can increase your family's well-being through valuing play in all of its forms.
__________
Swimming in this Moment, by Caren Knox
How meditation, mindfulness, and radical acceptance have transformed my parenting and our unschooling lives. How often do you find yourself frustrated, impatient, uncertain of the choices your kids are making, and feeling like there's something you're just not getting about radical unschooling? I will share about moving from that place through a dedicated meditation and mindfulness practice, to a life of deep acceptance, joy, and connection where learning and relationships thrive.
__________
The Many Benefits of Screentime, by Sylvia Woodman
One of the top concerns of parents, all parents, not just unschooling parents, is the idea of how much exposure to screens (phones, tablets, computers, video games) is safe and beneficial for children.
As Unschooling parents, our focus is on both the health and wellbeing of our children but also on learning.  In this talk I'm going to share some of the many ways that our family's use of all kinds of devices has brought us closer together as a family and helped all of us learn new things, about ourselves and the world around us.
__________
Thoughts From a Grown Unschooler, by Kelly Nicole
Kelly Nicole is now 22 years old and a successful actress, director, teacher, and juggler of her many jobs. Join her to hear how unschooling helped her learn constructively, gain confidence, and begin a career in the field she loves.
 _________
Fear and Other Big Block Walls, by Roya Dedeaux
In my practice as a Marriage and Family Therapist I have seen that almost every anxiety, communication problem, or parenting conflict comes down to fear. This talk will address how fear blocks our progress as homeschooling parents, loving partners, and congruent communicators. We will explore how control and fear are related, how to express ourselves genuinely, and most importantly leave with some tools to implement in our daily lives.
__________
Parenting Toddlers for Peaceful Teens, by Carma Paden

People frequently look at my kids (currently 13, 15, 19, and 21) and ask me how to get their own teens to behave so well: no drama! no backtalk! no rebellion! My answer usually begins with, "Well, when they are toddlers …" which doesn't actually help all that much when their kids are teens! But if your kids are younger, I can tell you how I started a relationship with my young children that grew directly into peaceful, harmonious teen and young adult years. There is a follow-up chat for extended Q&A.
__________
Reading "Late", by Carma Paden

Schools teach us that it is critical for kids to learn to read at age six. It's not (that is a necessity only within an institutional educational framework), but it does make us tend to panic a bit when our kids don't start to read "on time" at age six. "Late" reading can be a result of many things, among them specific issues such as dyslexia, dysgraphia, and vision problems. Of my four children, one is dyslexic and two required vision therapy for focusing issues that hindered their reading, and yet they all learned to read in a natural, organic way, much the same way they learned to talk, without instruction.
While there's absolutely no need for a child to read by age 6 or 7, there are times when there is an actual hindrance that needs outside help, such as vision therapy. I can tell you how I recognized that my daughters needed vision therapy in order to help their eyes function properly, and how my dyslexic began to read without any extra help. Your "late" reading kids might need a little outside help or they might just need you to relax and support them as they mature.
__________
Save