Fairy Godparents – If you're a regular conference-goer, you're familiar with the Fairy Godparents program, because it's a favorite!  Open to all ages, the idea is make each other's time at the conference just a little more filled with love. You'll be secretly paired up with another participant and act as that person's Fairy Godparent throughout the entire conference.  Leave them notes or little gifts, candy, have someone serenade them… be creative!  It's a lot of fun, and guaranteed to bring some extra joy to your conference experience.  You can either reveal yourself to your Fairy Godchild at the end of the conference, or let them always wonder.  Hosted by Laci Omerza
Raffle – We do a raffle every year, to help support our scholarship fund for families who need financial assistance.  What exactly are we raffling off?  It could be just about anything!  In the past we've raffled off gently used books, toys, handmade soaps, games, craft items, themed baskets, dolls.  The more donations we receive, the more successful the raffle.  Raffle items are donated by anyone who'd like to participate; all proceeds go straight into the scholarship fund.  Run by Amy Travis
UNtrepenuer Fair – Free to all conference attendees, the UNtrepenuer fair welcomes you and/or your child to set up a table to showcase and sell your wares.  If you have a craft or other item to offer, this is the place.  It will be open throughout the entire weekend, and is a great way for your unschoolers to embrace their entrepreneurial spirit!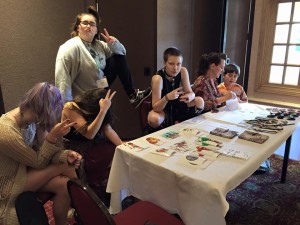 Teen Room – Teens only!  Come, hang out, take a nap, visit with friends, play a game, whatever you'd like.  We'll start the room off with a couple of bean bag chairs, a TV with a gaming system, and some small doo-dads like hacky sacks and decks of cards.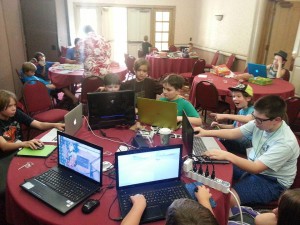 Computer/Game Room – Want to play Minecraft or another game with your friends? This is the place!  We'll have a dedicated room with plenty of tables and chairs, so bring your laptops.  Board games or chess or cards more your thing? We'll have that too.  We'll bring a selection of games to get it started, but feel free to bring your own, too.  This will be open all weekend too.
Arts & Craft Room – This room will be open all weekend, so come and go as you please. There will be a variety of paints, pencils, pastels, and other art supplies to satisfy all your creative needs.  Run by Sandra Jessop
Animal Friends Adoption – You know you're hoping to make new friends at Free to Be, but what about your stuffed animals? Are THEY making new friends? Or maybe you didn't pack a stuffed animal? Or you have some plush friends who could use a new, loving home with fellow unschoolers? In any case, come check out the Friends Exchange!
Bring your stuffed animals in need of new homes and/or pick up a new stuffed friend. We'll make it fun (think "adoption info sheets" to help you find the best new pal) and, when it's over, any friends who haven't found a new home will be donated to a children's charity.
You don't have to donate one to adopt a new friend, but if you haven't donated, a good rule of thumb is to adopt just one per person so that other families have a chance to find some new friends too!  Hosted by Joan Concilio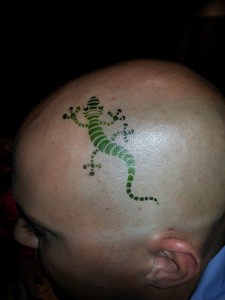 Airbrush Tattoos – Mary and Jim Vogel of Body Art 4 Fun will once again be joining us to apply airbrush tattoos for whoever would like one.  Get something tiny or get something bold!  They will be on hand all weekend, and tattooing for select hours to be determined.  Tattoos are free, but tips are always appreciated.
Digital Scavenger Hunt – A first for Free To Be, we'll be hosting a weekend long digital scavenger hunt.  Grab your friends and form a team, then spend four days performing a variety of random tasks for points, taking pictures and videos as proof of completion.  The goal is to get out there, meet other people, be silly, and have fun.  We'll have a Facebook event page set up to upload your pictures and videos, and the team with the most points at the end wins.  Want to play but don't know anyone to form a team with yet?  No problem!  You can still sign up, and we'll make sure you get matched up with a great team.  *Teams can have members of any age, but we recommend at least a couple of adults or teens per team.  At least one member of your team needs to have a smart phone and be on Facebook* Hosted by Rachel Clark and Joy Mueller
Kids' Scavenger Hunt – Hey kids!  (Around age 12 and under)  We've got a scavenger hunt just for you.  Follow clues around the hotel, gathering stickers as you go.  Once you've found all your stickers, come choose a prize!  Hosted by Rachel Clark and Joy Mueller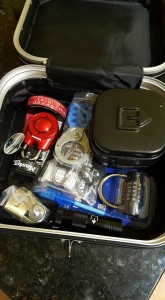 Escape Room – Another first, this year you'll get to try your hand at an escape room.  Not quite as scary as it sounds, you and your team will sign up for a time slot, and have 45  minutes to find clues, solve puzzles, and think outside the box in order to unlock a box and get out of the room as fast as you can.  From the Breakout EDU website:
"You and your colleagues believed you were at a professional development class when you realized that something seemed a bit off. The presenter, Dr. Johnson, stepped out of his room to lead a session down the hall and your friend Sarah decided to take a peek at what the professor was working on at his desk.
You and your colleagues discover that Dr. Johnson has plans to unleash a deadly airborne virus that would turn anyone who came into contact with it into a zombie. However, you also learn that the doctor has created an antidote that can reverse the symptoms. He plans to save it for himself and family.
You have 45 minutes to find the antidote and save the world."
*All ages are welcome to play, but the majority of your team needs to consist of adults or teens.  Also, at least one member of your team needs to have a smart phone.*