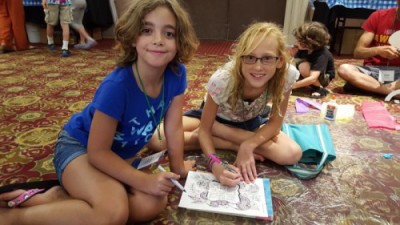 Ask any of my younger kids the best part of unschooling conferences, and the answer is always the same:  funshops. Connecting with friends is great, but funshops are what make the conference… well, FUN!
Funshops are open to all ages, and are a great way to try something new with your kids, your partner, or your friends.  Make something with your hands, learn a new skill, try a new food, be entertained, move, laugh, and play. You never know what you might encounter in one of our funshops run by our creative volunteers.
We're planning on having lots of familiar favorites, and lots of new ones too!
While funshops are appropriate for even our youngest unschoolers, it's up to the parents to determine how much assistance/supervision your child needs from you for any given funshop.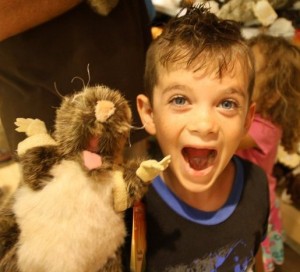 ____________________________________________________________________
Scheduled 2017 Funshops
Dinosaurs! – hosted by Brian Curtice
Dynamic and engaging speaker Dr. Brian Curtice will display a number of cool dinosaur bones including an as-yet-to-be-named new dinosaur skull!
__________
Art Therapy: Squashing Monsters – hosted by Roya Dedeaux
Do you have a teeny little voice (or a thundering roar) inside you that tells you that you should be anxious, afraid, give up, or that you shouldn't even try? Lots of us have those fears and messages that keep us from expressing ourselves authentically, parenting the way we want to parent, taking risks or chances that might benefit us, or do anything that our inner critic might disapprove of.
Join me as we work through these inner-monsters with some good old fashioned art therapy techniques! If you are nervous about sharing these thoughts, don't worry – no one is forced to share, and you can still benefit from the activity.
__________
Black Out Poetry Workshop – Hosted by Roya Dedeaux
I love all types of poetry, and one of my favorite ways to create a poem is called "black out poetry." We will use newspapers, magazine articles and words that are already there and reshape them into a poem that has meaning for you. You do not need to have any poetry writing experience at all. And experienced poets, this can be a great tool to reinspire when you're feeling blocked!
__________
Meditation and Mindfulness: It's Not What You Think, hosted by Caren Knox-Hundley
For the beginner, experienced meditator, or those who are simply curious, we'll try out various methods of meditation and simple ways to practice everyday mindfulness, looking at how to use these powerful tools in our unschooling lives.
__________
Artist Trading Cards(ATCs), hosted by Erika Davis-Pitre

What are Artist Trading Cards?
Artist Trading Cards (ATCs) are simply pieces of art that are made out of cards measuring 2.5"by 3.5". 
You can buy special paper already cut to this size, or better yet, simply use sturdy paper you already have at home. Old file folders, card stock, greeting cards – any paper that is not flimsy – can be cut to the right dimensions and used as an ATC. Think about baseball trading cards and look for paper about that weight. Or, be
creative and use materials other than paper. Just keep to the 2.5" x 3.5" size.
Once you have your 2.5 x 3.5" card, what you do with it is up to you. Draw on it, paint, collage, sew, embellish, write words. 
In an ATCs funshop, all of the participants share materials, themes, techniques and ideas with others in the funshop to make unique ATCs. And we always schedule time for trading/swapping finished cards too. 
Open to all ages.

ATCs Supplies needed from Home for this Funshop:

Cardstock-Cut to the 2.5″x 3.5″ size and leftover scraps. 
Colored paper of various weights and sizes. 
Old gift wrap, Magazines and Catalogs for collage cards.
Fabric scraps, Buttons and other sewing notions for
embellishment.
Watercolor paints, Crayons, Colored Markers, Gel Pens, Colored Pencils etc.
Scissors, Paper Punches, Glue, Tape, etc.
And any other Arts and
Crafts supplies that you would like to share(Most Scrapbooking Supplies work well for making ATCs). 

*Even if you don't participate in the ATC funshop, we would really appreciate donations of art supplies from everyone!*
__________
Pantyhose Bowling For Teens, hosted by Jen & Kris Andersen
Pantyhose Bowling is Back, This Time for the Teens!
Grab a set of pantyhose and put them on your head (yes, you read that right!), jump in with some friends and use that noggin to knock down the "pins". If you are not familiar with Pantyhose Bowling check it out on YouTube- it is so fun and full of laughs (but make no mistake, you will WANT to knock down those pins, too!)! "Winning" team gets bragging rights. The other team also gets bragging rights, because how many people can say they have played Pantyhose Bowling?!
__________
Life Drawing, hosted by Amelia Van Brink
Drawing the human figure is a difficult task, but life drawing is one of the best ways to learn! Life drawing is where you have a live model pose for set amounts of time so you can draw them. This will be uninstructed for the most part but I'll be able to answer any questions you have and give tips as wanted! We'll be doing short poses which are great for practicing gesture and flow (1-5 minutes). And a some longer poses which are better for shading and form (5-10+ minutes) if they're wanted. I'll be supplying paper and colored pencils, but feel free to bring your own art supplies to use!People of all experiance and skill levels are encouraged to come!
__________
Imperfectly Perfect Bullet Journaling, hosted by Caren Knox-Hundley
If you juggle lists, a smartphone, calendar, phone reminders, alarms, etc. to stay on top of your activities, birthdays, movies you'd like to watch, journaling, bill-paying, wish lists, travel details, appointments, grocery list, and most of everything else we do, come learn more about Bullet Journaling – an analog, highly personalized, flexible, effective, inspirational, creative way to organize all of the above! 
__________
It's All On the Wrist! Macramae Bracelets, by Sylvia Woodman

Come make easy Macramae bracelets for yourself and your friends. It's a simple as tying an overhand knot. There will be several different easy styles of bracelets to choose from.
__________
Minute-To-Win-It!, by Julie Hilbert
For all ages! How many activities can you complete, each in ONE MINUTE?? Come join us as we challenge each other in fun, short games. Partner up with a friend or race against the clock. Try one or two or do them ALL! 60 seconds and counting….
__________
IMP: Irregular Mutant Pets, by Julie Hilbert

Want your own special stuffed pet? Join us as we create our own by dissecting stuffed animals and sewing body parts onto whichever animal you want! Want a racoon tail on a dog? Of course! Want a bunny ear and a cat ear on a bear? Why not? It's your pet, you get to create it. For all ages, but some basic sewing skills (or an able parent to help) is recommended. If you have some fabric scissors or nice sharp ones, please also bring those! Animals and other materials are supplied.
__________
Chess For Everyone, by Alan Marshall

An opportunity to get together to play or learn to play chess. Everyone is welcome, all ages and abilities. If you have never played, we'll show you how the pieces move and get you started. If you have played before, we'll play a few games and, if you want, you can get some pointers.
We are going to have some real life chess boards, but we will also be playing online. If you can, please bring a device with an internet connection. Follow the Free To Be Facebook group for information about how to be connected and ready to play when we meet. (All you need is internet access, it's free and easy.)
__________
The Creative Writing Challenge, by Jess Hilbert
Does writer's block have you stumped? Is there a fork in the road of your roleplay? A plot hole in your novel big enough to drive a school bus through? Well fear not, fellow writers! In this workshop you will learn the tools to combat those challenges and overcome the devastating block. This workshop will feature exciting writing exercises that put your creativity to the test and will invite a new sense of thinking to challenge the way you write.
All ages welcome! (12+ recommended)
___________
Mask Magic: Decorate a Mask, by Rhiannon Tucker
Come decorate a mask with paint, markers, glitter glue, ribbon, rhinestones, or other craft supplies, plus anything you would like to bring for yourself or to share as well.
__________
Geocaching, by Kevin Tucker
This will be a two-part funshop. First, I'll cover the basics ideas and find a few close to the hotel. The second part will be an early (pre-heat) meeting at Papago Park, near the Phoenix zoo, where there are some extremely clever caches hidden. It's about 10-15 mile round-trip drive, and will involve about a mile of hiking (so dress appropriately), but I promise, it will be worth it.
If you want to prepare, you can sign up for a free account on www.geocaching.com but it's not necessary.
__________
Acting & Improv, hosted by Kelly Nicole

Come join Kelly Nicole and learn the basics of acting and improv, and doing it all through fun, interactive games!
__________
Teen Speed Meeting, hosted by Jennifer & Paxton McGrail
Get to know your fellow teens in a fast paced, fun, speed-dating style
__________
Icebreakers for All Ages, by Carma and Colter Paden
Join old friends and not-yet friends for Two Truths and a Lie and other fun icebreaker games!
__________
Quickie Workouts are Back!, by Laura Flynn Endres
Designed for all levels of fitness from beginner to advanced, these interval workouts are short, effective, and fun! Learn how you can level up your fitness in only 15-30 minutes per day and try a 15-minute workout with Laura of This is Fit Workouts! All levels welcome – the workout will be adapted on the spot to YOUR fitness level! Participate, watch, do as much or as little as you want. This is the ideal way to start your way – better than coffee. (For real!) Wear good shoes and comfortable clothing and bring a yoga mat or a towel to use for floor exercises and stretching.
__________
Self Defense, by Rob Endres
Rob Endres has been practicing Shaolin Kempo Karate for 25 years. He earned his Black Belt in 1992 (the night before his wedding!) and has spent the past 8 years teaching friends and family for free. This funshop will focus on self-defense techniques against weapons, punches, kicks and holds. It will be fun and relaxed and you can participate or watch! Please wear comfortable, loose-fitting pants (like sweat pants) and a t-shirt. Shoes are optional.
__________
More funshops will be added soon!
Save