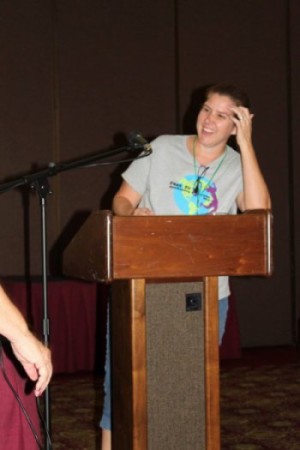 Our circle chats and panels allow you to dig a little deeper into unschooling and parenting topics in a more intimate setting. Get your questions answered, learn from a variety of voices, and share with your fellow conference attendees. We will have a wide range of circle chats, as well as Q & A panels of seasoned moms, dads, grown unschoolers, and teens.
As circle chats and panels are added to the schedule, we will list them here.
___________________________________
Connections, by Sandra Dodd
Personal knowledge is a web inside us of images, ideas, feelings, memories, fantasies and experience. Learning happens when we take in something new and connect it to what we already knew.
What might keep you from doing that more and better?
There is a web outside us, too, of people, ideas and information.
Live in it!  Frolic in it!
__________
Your Own Certain Knowledge, by Sandra Dodd
Vague interest can turn to trust in others' accounts of learning and of parenting successes. Trust in those stories can give us courage to experiment, and from that we can discover our own proofs and truths to share with newer unschoolers, who might find courage from that to try these things themselves. Faith in others can only take us a little way, though, and then our own children's learning will carry us onward. Some ideas become theories. A few theories might turn to convictions. Some early thoughts will be abandoned; others will gain substance. After much thought and use, what is left will be what you believe because you have lived it.
__________
Unschooling Your Teens-Is it what you expected?, by Erika Davis-Pitre

This talk is for all families who either have teens, will have teens soon and/or have the pleasure of looking back on their children's  teenage years.
It will be a chance to ask questions, share insights, and find support among other families with unschooling teens. 
Both parents and teens are welcomed and encouraged to attend. 
__________
College: A One Person Panel, by Roya Dedeaux

Do you have questions for grown unschoolers who have been to college at a young age? Who have gone through community college? Who have received degrees from accredited universities? Do you have questions for college professors who work with students every day? Guess what? I am all of those things! Come with your questions and I will answer them! I have some words of advice, but this is your chance to ask what is on your mind about any part of the college process.
__________
The Healing Power of Unschooling , by Caren Knox-Hundley
Through the many healing modalities I've explored, therapeutic methods I've tried, and self-reflection I've done, nothing has been more impactful, more life-changing, and more healing than becoming a good unschooling mom. Being kind to my kids helped heal the child in me who needed more kindness. Let's get together and share things we've learned and experienced on this amazing journey.
__________
Gentle Discipline (two sessions), by Jennifer Andersen
This is an open forum to discuss what our beliefs about children are, and how to move from punitive to respectful parenting. The session will start with Jennifer sharing a few thoughts, examples, and prompts. Then the circle will open for those new to gentle parenting to ask questions and explore beliefs with those parents who are seasoned.
Due to the continued popularity of this session, we will again have two parts to this circle chat. The second will be a continuation of the first. Please see schedule for details.
Guidelines for chat: please be aware of how many people would like to speak. If you have asked/shared a lot, and others are waiting, please allow them the floor. Sharing many stories is important for personal change when parenting!
__________
Unschooling Beyond Labels, by Alan Marshall
A chat not only for parents of children who might be labeled by medicine or social science, but for any parent who has struggled or is struggling with how to best help a child when they aren't what we were expecting. We won't be focusing on how to diagnose or fix the child, but how to live an unschooling life regardless of any diagnosis. Anyone who might find such a discussion valuable is welcome to participate, no matter how typical or atypical others might think you or your children are.
__________
What if my child wants to go to school?, by Alan Marshall
A discussion of what to do and how it feels when a child asks about, shows an interest in, or actually enrolls in school. The emphasis will be on finding the most helpful responses to what can be an emotional choice for unschooling parents. We will seek to find ways to minimize any pressure or stress for the child, the family, and any still unschooling siblings.
__________
Protecting our Partnerships, by Sylvia Woodman
Sometimes the day to day business of raising children and unschooling them overtakes us and we can lose our focus on our partnership.  Let's spend this hour talking and brainstorming ways we can keep our partnership strong so that when these short years of unschooling our children are over, we don't look up one day at our partner and see a stranger.
__________
The Big Shift, by Sandra Dodd
When a family moves from already-gentle parenting to unschooling, some think it's an advantage, but sometimes it can be a hindrance.  Come and hear stories of moving from restrictive, harsh, punitive ideas WAY over to a life of kind respect for children's preferences, and from telling children to stop asking those stupid questions to being grateful for every inquisitive moment.
What thoughts and tools have helped families make a large shift?   They can probably help with smaller shifts, too.
__________
Circle Chat for Teens, by Kelly Nicole
No easy way to say this, being a teenager can be tough. Kelly Nicole is fresh out of her teens and has faced – and is still facing – bullies, doubt, anxiety, depression, and just about everything else you'd like to throw in the mix. Come chat and learn techniques for dealing with bullies, depression, and everything mentioned above. Bring questions, and feel free to share your own stories as well.
__________
Creating Your Dream Life, by Kelly Nicole
Everywhere you go there are people who will doubt you. Join Kelly Nicole and learn how to overcome their words and jeers, and come out stronger and more motivated than ever. As Walt Disney says – "If you can dream it you can do it!"
__________
Breaking Into The Arts, by Kelly Nicole
Starting a career in the arts may seem improbable, but it's not impossible. If you are interested in getting started in the arts (whether it's acting, singing, writing, painting, or anything in between), join Kelly Nicole for tips and tricks of how to keep your creativity, but remember the business side of the arts as well.
__________